IEEE FOOTHILL INVITED TO CLASTECH 2015
Hi to ALL IEEE Foothill Section Members:
You are invited to come join your fellow engineers at the IEEE Coastal Los Angeles Section CLASTECH 2015 Meeting. This all day meeting will give you an update on what is happening in the high frequency electromagnetics arena: microwaves, antennas, related power amplifier circuits, and the related systems which use these technologies. This meeting will give you an opportunity to meet many IEEE professionals working in these fields throughout Southern California. The distinguished speakers will be attending from throughout the USA.
This meeting will be held all day on Friday, November 6, 2015 at the Proud Bird Restaurant, 11022 Aviation Boulevard, Los Angeles CA 90045
Early registration closes on Oct 31, 2015, with a reduced rate of $20 for early registration. Otherwise, late and onsite registration fee is $40.
Registration site is: http://clastech2015.eventbrite.com
Check out our web page: http://www.clastech.org
Contact c.jackson@ieee.org for more information
A listing of the program technical talks follows: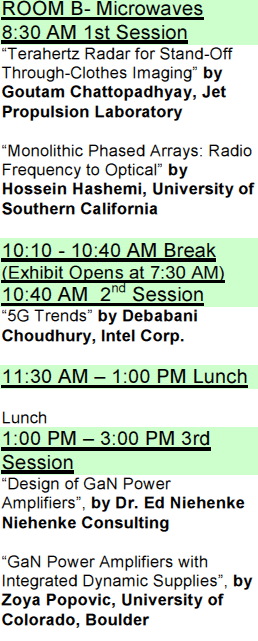 And a SPECIAL THANKS TO OUR COMMUNITY ORGANIZER, THE person WHO makes THIS show.