IEEE Foothill Co-Sponsored UC Riverside Highlander Micromouse Competition 2016
April 15, 2016

Posted by MAauthor

under

General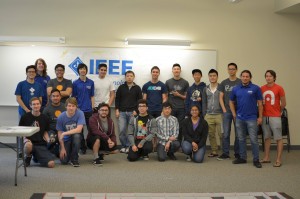 IEEE Foothill Section co-sponsored UC Riverside Highlander Micromouse Competition held on April 2-3, 2016 at UC Riverside Winston Chung Hall Room 233. Below is a write up of the event submitted by their Robotic Coordinators Andrew Nava and Emilio Barreiro.
Video Highlight Reel of the Competition:
Preparation
The 2016 UCR Highlander Micromouse Competition was a success for both IEEE and the participating teams. To prepare for this event, IEEE UCR Board spent the weeks leading up to planning a timeline of tasks and cost estimations to maintain deadlines and budgets. As the day came closer, we repainted the maze, purchased snacks and beverages, created a schedule, coordinated parking passes for visiting teams, and organized for a videographer to film the event highlights. IEEE UCR board members repainted the base panels and maze walls. On Saturday morning, April 2nd, Andrew Nava, the Robotics Coordinator, and Emilio Barreiro, the upcoming Robotics Coordinator, set up the room with tables, chairs and the maze. Registration for the all-nighter began at 5pm Saturday night, when the All-Nighter began.
All-Nighter
The all-nighter portion of the event is meant for students to knock out any last minute hardware/software issues on their robots. We had a great turnout of about 20 students who were able to come and with the help of IEEE Foothill we were able to provide food, snacks, and beverages to everyone who attended. At midnight, to give students a small break we opened a room with a video game console and projector for students who were interested. Throughout the night, Emilio Barreiro and Andrew Nava were able to assist all teams with their robotics needs in Electrical Engineering and Computer Science.
Competition
On Sunday, April 3rd, registration began at 8am and by 9am, all teams had checked in and began calibrating their robots on the practice maze. We had a total of seven teams competing, all of whom put a lot of work and time into their robots for this competition. In attendance were five teams from UCR, one team from UCSD, and one team from CSULA. We presented prizes shortly after the last competitor ran their mouse in the maze. On top of this page is the group photo from the event and a link to the highlight video that our videographer made.
Prizes Awarded
1st Place: Green Ye (CSULA) $150
2nd Place: Team Twitch (UCSD) $125
3rd Place: Team Modest Mouse (UCR) $100
4th Place: Team Temp (UCR) $75
Best Beginners Mouse: Team FTW (UCR) $150
Special Thanks and Recognition to:
IEEE Foothill Section
Triad Magnetics
Pololu
UC Riverside BCOE
All Competitors and Volunteers