Home
»
CN
,
CS
» Consultant Network and Computer Society 11-15-18 Joint Presentation – Slides Available
Consultant Network and Computer Society 11-15-18 Joint Presentation – Slides Available
November 21, 2018

Posted by CSauthor2

under

CN, CS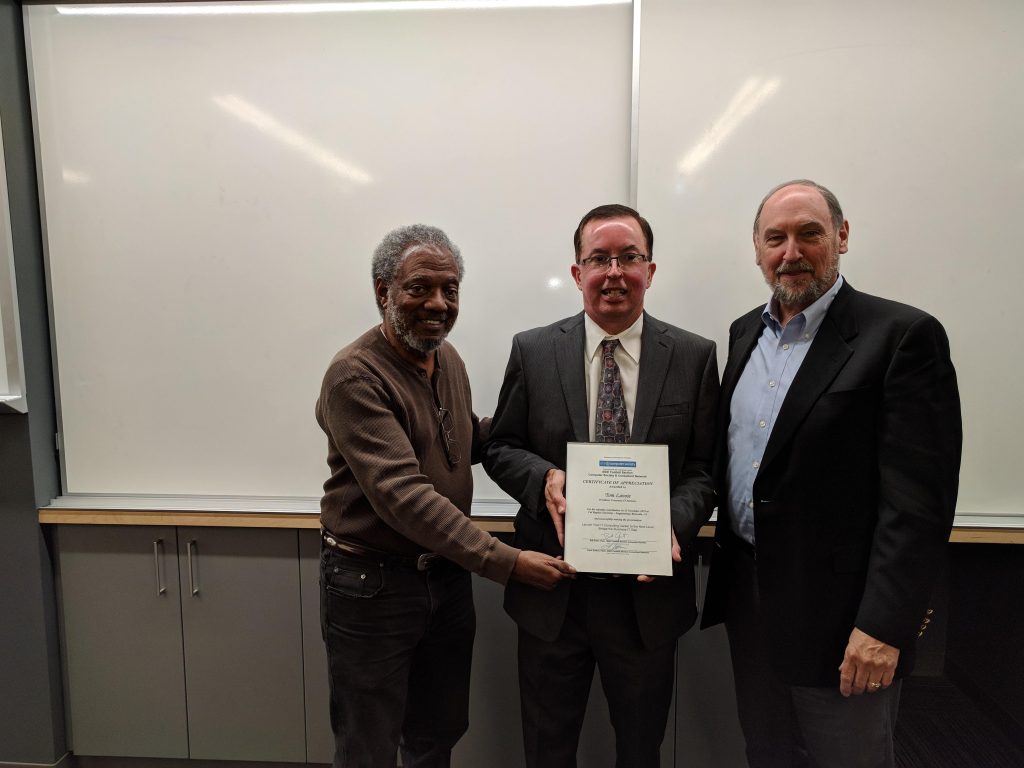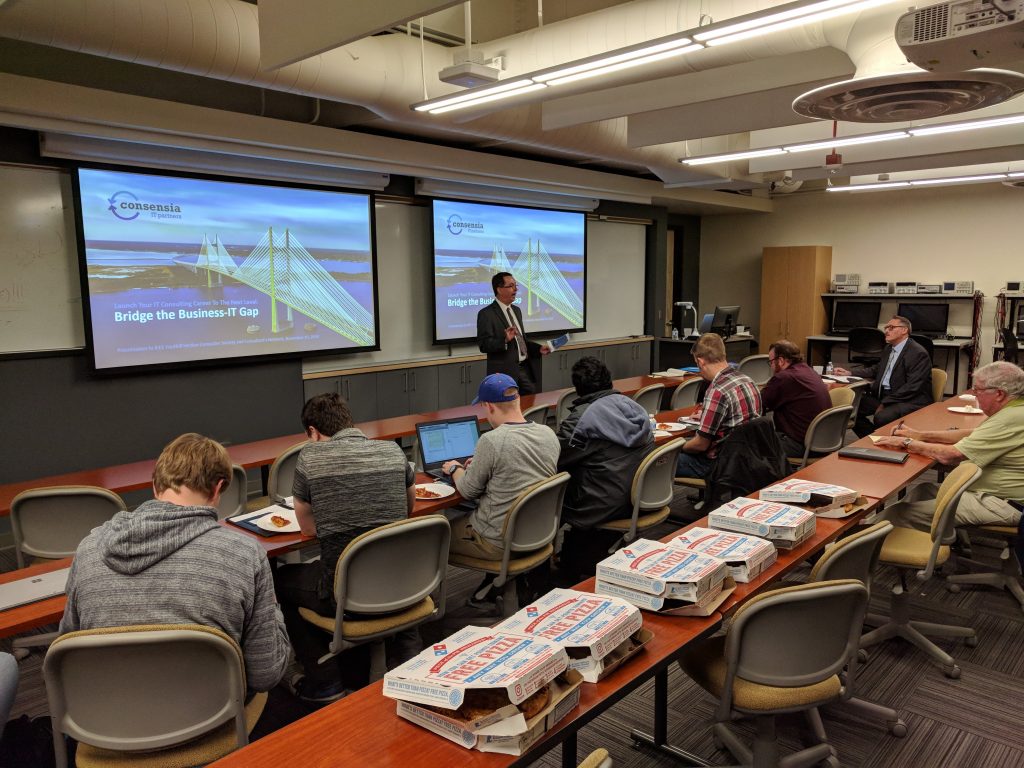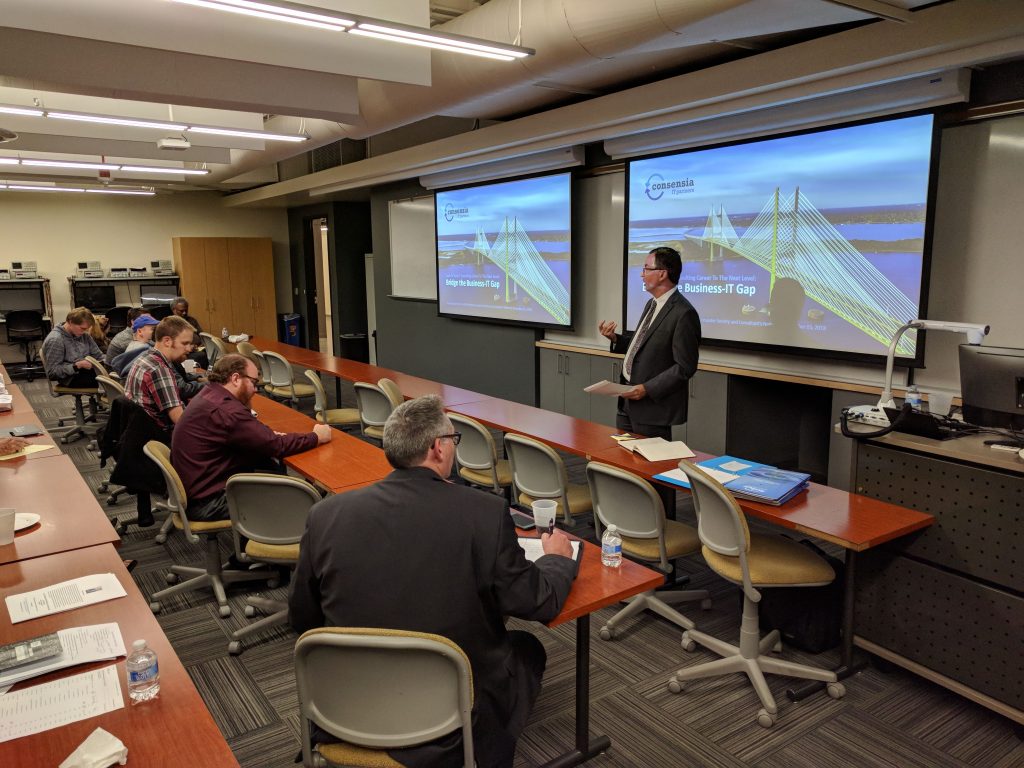 Consultant and Career Coach, Tom Lavoie, formerly of HP Consulting, gave an excellent presentation to a mixed crowd of CBU students , IEEE members, and Consultants on the campus of Cal Baptist University.  Please review Tom's slides which provide excellent career advice for both consultants looking for their next gig, and students looking to kick start their career.  Tom had just attended a CIO Conference in San Diego and gave the audience timely IT trend information fresh from his conversations with top CIOs.  He talked about which IT jobs are going away and how to plan your career path or consulting engagements to maximize your success.  These trends are reflected in his slides along with his contact numbers for IEEE members and attendees who need additional inputs or questions answered.  He also provides individual or group Coaching to help you with your IT career growth.
Cash Sutton, CN Chair, and Bill Grist, CS Chair, gave brief updates on their Foothill Section groups.  Cash noted that the CN is an Affinity Group and includes several non-IEEE members.  The Foothill Section CN is trying to rebuild its membership list and encourage members to get involved in planning future consultant meetings.  Bill noted that anyone can join the IEEE-USA Consultant Network list for No Charge when you go online to renew your membership.  Since it is a no charge item that can be added to your shopping cart at any time, you can go into your IEEE account now to sign up, even if you have already renewed.
Slideset link below:
IEEE prez – business IT alignment Final
IEEE Foothill Section
Consultant Network/Computer Society Meeting
Thursday  Nov 15, 2018
Cal Baptist University Riverside
TROESH Engineering Building Room 303
8432 Magnolia Avenue
Riverside, CA 92504
https://calbaptist.edu/about/map-directions
Free parking available around the building.
---
Agenda
7:00 P.M. – 7:15 P.M. Networking – Pizza & soda provided
7:15 P.M. – 7:30 P.M. Announcements, Introductions – Cash Sutton, Consultant Network Chair,
and Bill Grist, Computer Society Chair
7:30 P.M. – 8:45 P.M. Presentation/Lecture
8:45 P.M. – 9:00 P.M. Questions & Answers
---
Topic:  Launch Your IT Consulting Career To The Next Level: Bridge The Business-IT Gap

Speaker: Tom Lavoie, President of Consensia IT Partners

Abstract
Let's face it, business and IT often speak different languages and frequently struggle to understand each other's priorities, dependencies, challenges, and demands.  But many of the most successful technology leaders learned early on that their project success and career advancement depended on their ability to understand and align with business needs, and clearly articulate IT solutions (and challenges).  In this discussion, Tom will review with you the best ways to achieve IT success by identifying what is driving business demands and how to balance that with what it takes for you and the technology team to deliver.
About the Speaker
Tom Lavoie is a senior business and technology consultant, certified FocalPoint business coach, president of Consensia IT Partners, and a seasoned and enthusiastic business champion. Tom has nearly 35 years of experience in global business and technology operations, strategic business planning, and senior leadership, including 30 years at Hewlett-Packard where he developed a passion for ferreting out "can'ts" and turning them into "cans" for his customers. With Tom's support and guidance, his customers have been able to improve the bottom line, retain and grow customers, and build high-performance teams to achieve success. Along the way he discovered a passion and talent for helping businesses with a variety of challenges including IT consulting, business performance management, customer retention and relationship management, team leadership coaching, change management, and business planning and roadmapping. Tom left Hewlett-Packard in 2015 to pursue a coaching and consulting path and in 2018 aligned with FocalPoint Business Coaching where he works with companies and executives primarily surrounding Orange County/Los Angeles, San Diego, and the San Francisco Bay Area.
---
All Students & the Public Are Welcome to Attend
Event Sponsored by
https://calbaptist.edu/

&
IEEE Foothill Section – www.ieee-foothill.org